Seja pelo interesse profundo que o poder da PNL tem na tua vida, seja para agregar valor ao teu curriculum, seja para complementar a tua formação em outras áreas com um conhecimento profundo e certificado da PNL, o Pack PNL TOTAL é sempre a opção mais vantajosa para ti.
Se desejas levar o teu conhecimento de PNL para um novo patamar, deves combinar o PRACTITIONER DE PNL com o MASTER DE PNL de 2022 ou 2023, sendo que só podes frequentar o nível MASTER depois de concluir com aproveitamento o nível PRACTITIONER.
Este pack inclui:
CURSO PRACTITIONER DE PNL +
CURSO MASTER DE PNL
que deverás escolher entre as datas já definidas para 2022 e 2023.
Não te esqueças de indicar as edições/datas desejadas nas observações da tua encomenda!
COM QUEM VAIS APRENDER?
Adelino Cunha
– Empresário, Escritor, Consultor de Empresas, Professor Universitário, Coach e Orador Motivacional.
– LICENSED TRAINER OF NLP pela Society of Neuro-Linguistic Programming™ com Richard Bandler e John La Valle em Orlando.
– RECONNECTIVE HEALING PRACTITIONER com Eric Pearl em Lisboa.
– Adelino Cunha é um dos poucos Trainers que fazem parte da Equipa de Elite do Dr. Richard Bandler (co-criador da PNL) e a Solfut – I Have the Power é um centro de treino de PNL legalmente autorizado e reconhecido internacionalmente por Richard Bandler e pela Society of Neuro-linguistic Programming™.
Inscrições incluem:
– presenças em 2 cursos excelentes e absolutamente transformadores +
– saborosos coffee-breaks +
– possibilidade de almoçar com o Trainer e restantes colegas, podendo partilhar conhecimento e experiência valiosos, acessíveis a muito poucas pessoas +
– dossiers dos cursos e documentações complementares +
– certificado de formação profissional DGERT de cada um dos cursos +
– diploma I HAVE THE POWER de cada um dos cursos +
– diploma "NLP Practitioner Certificate" + diploma "NLP Master Practitioner de PNL" emitidos pelo Dr. Richard Bandler +
– inscrição automática no grupo I HAVE THE POWER PNL Alumni (alunos de PNL do I HAVE THE POWER) que te vai dar acesso a eventos exclusivos deste grupo +
– 1% de crédito para poderes poupar em futuras compras.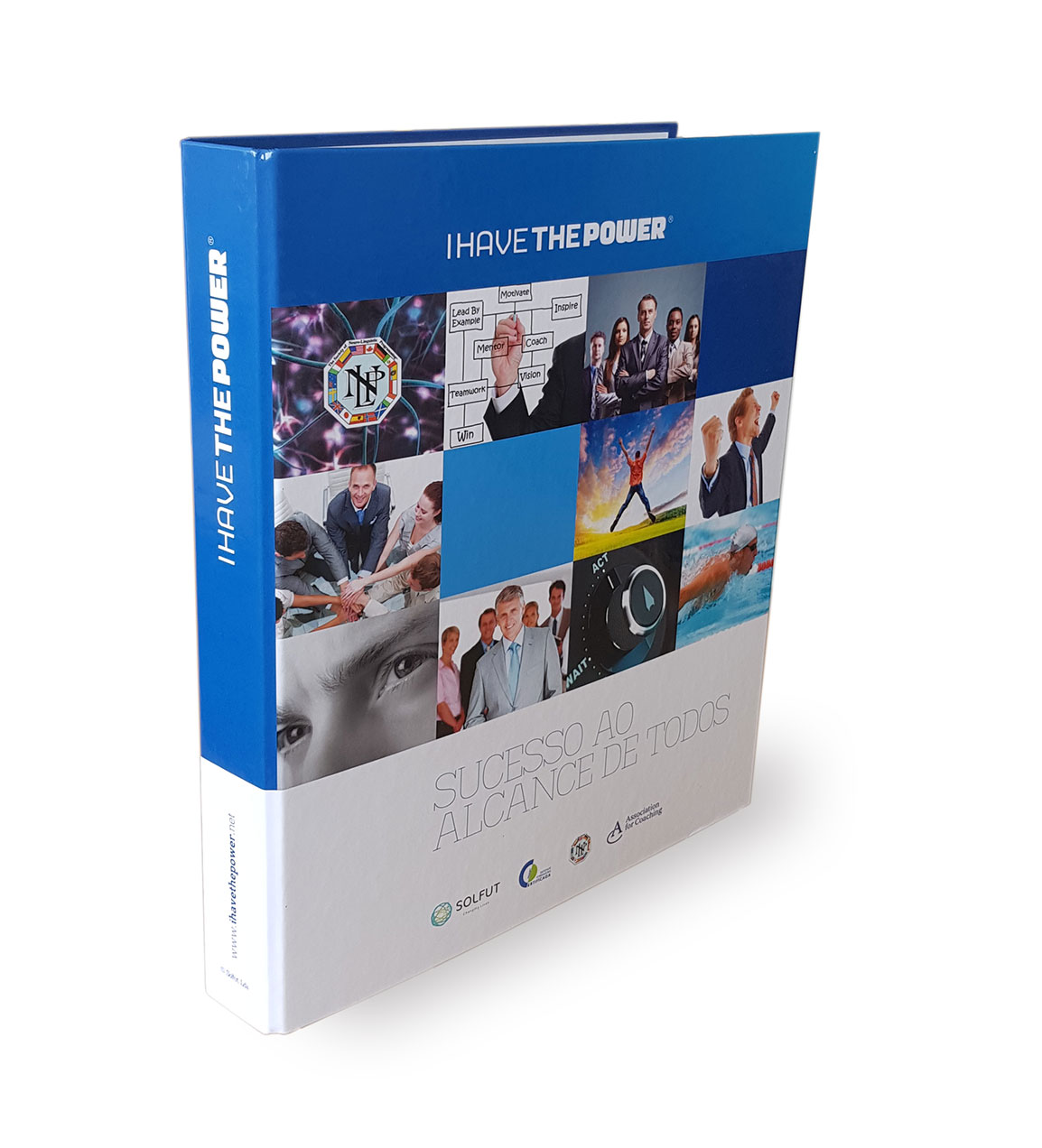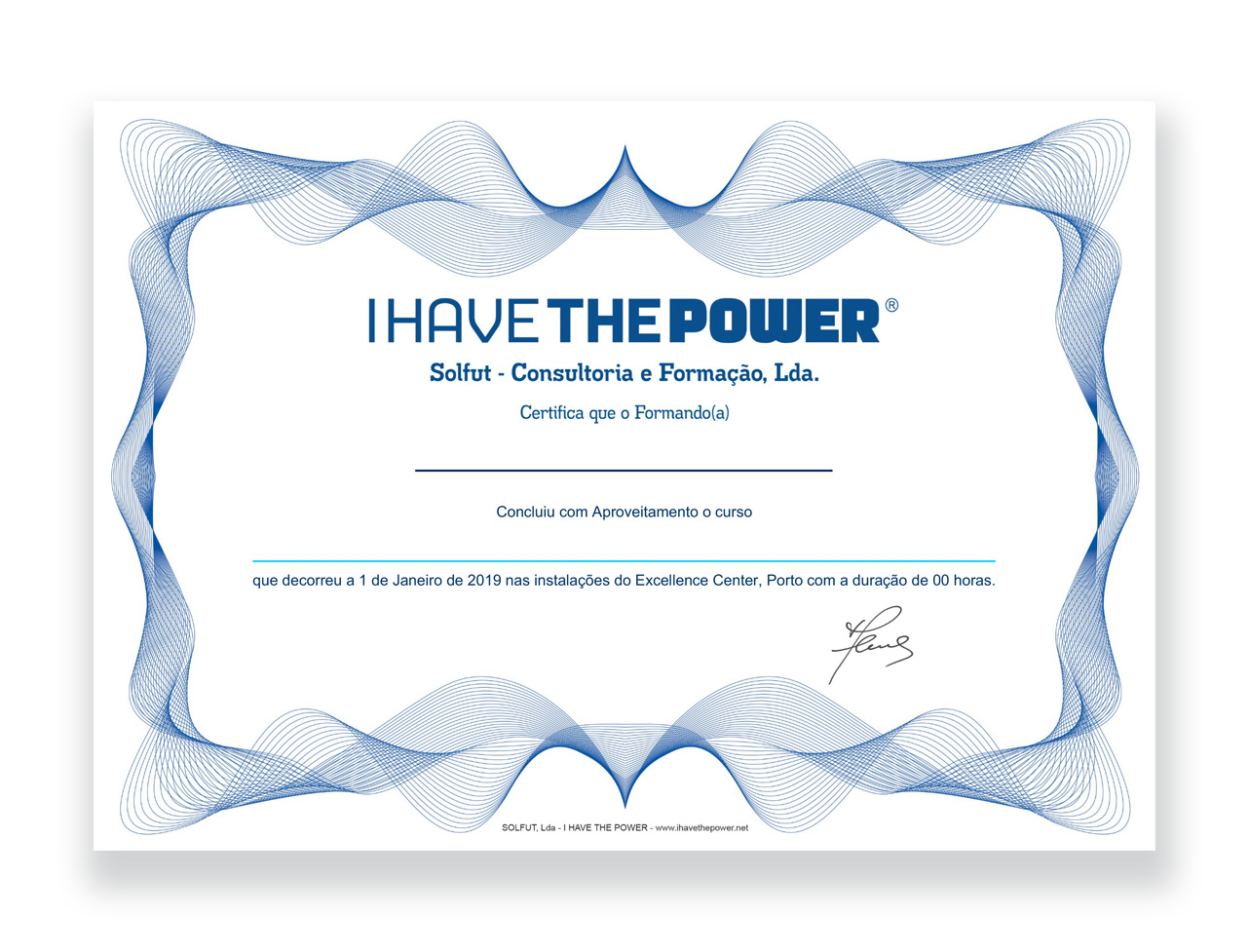 Dedução de despesas com formação profissional no IRS
Os nossos clientes podem deduzir no imposto sobre o rendimento singular (IRS) despesas relacionadas com a nossa formação profissional.

Agora chegou a tua hora, a tua enorme oportunidade, disponível apenas para um número limitado de pessoas, de poder aprender, directamente com um dos maiores especialistas da PNL, o que fazer para começares um novo rumo na tua vida e ficares ao nível dos melhores.
Para poderes agarrar esta oportunidade única de mudar já a tua vida, para um futuro livre de medos, ansiedade e cheio de esperança, força interior, conhecimento e crença positiva, rumo ao êxito que mereces, inscreve-te já nestes 2 cursos porque vai valer a pena!