I HAVE THE POWER – Alto Desempenho em Vendas com PNL em exclusivo na sua empresa
Para saberes mais detalhes sobre os cursos de Alto Desempenho em Vendas com PNL consulta a nossa página informativa.
Vê aqui a informação detalhada
Local do curso:
A definir com o cliente.
Duração:
21 horas de grande transformação em 3 dias.
Nr. máximo de Pessoas:
Até 10 pessoas. Para grupos de mais de 10 pessoas contacte-nos para saber valores de investimento.
Horário:
Habitualmente das 10h00 às 13h00 e das 15h00 às 19h00, mas pode ser ajustado a cada cliente.

A tua inscrição neste curso incrível inclui:
– presença num curso excelente e absolutamente transformador +
– inscrição automática no grupo I HAVE THE POWER Business Development Alumni (alunos deste curso) que te vai dar acesso a eventos exclusivos deste grupo +
– dossier do curso e documentação complementar +
No final do curso, todos os formandos que completarem a ação com assiduidade e aproveitamento, receberão ainda:
Certificado de Formação Profissional (DGERT)

Este certificado é emitido na Plataforma SIGO da DGERT, e a certificação ficará registada no Passaporte Qualifica sendo reconhecido em toda a Europa.
O Certificado de Formação Profissional da DGERT possui um elevado peso no mercado de trabalho, adicionando valor ao teu currículo.
As horas de formação contarão ainda para as 40 horas de formação obrigatórias nas empresas.
Diploma Oficial do I Have The Power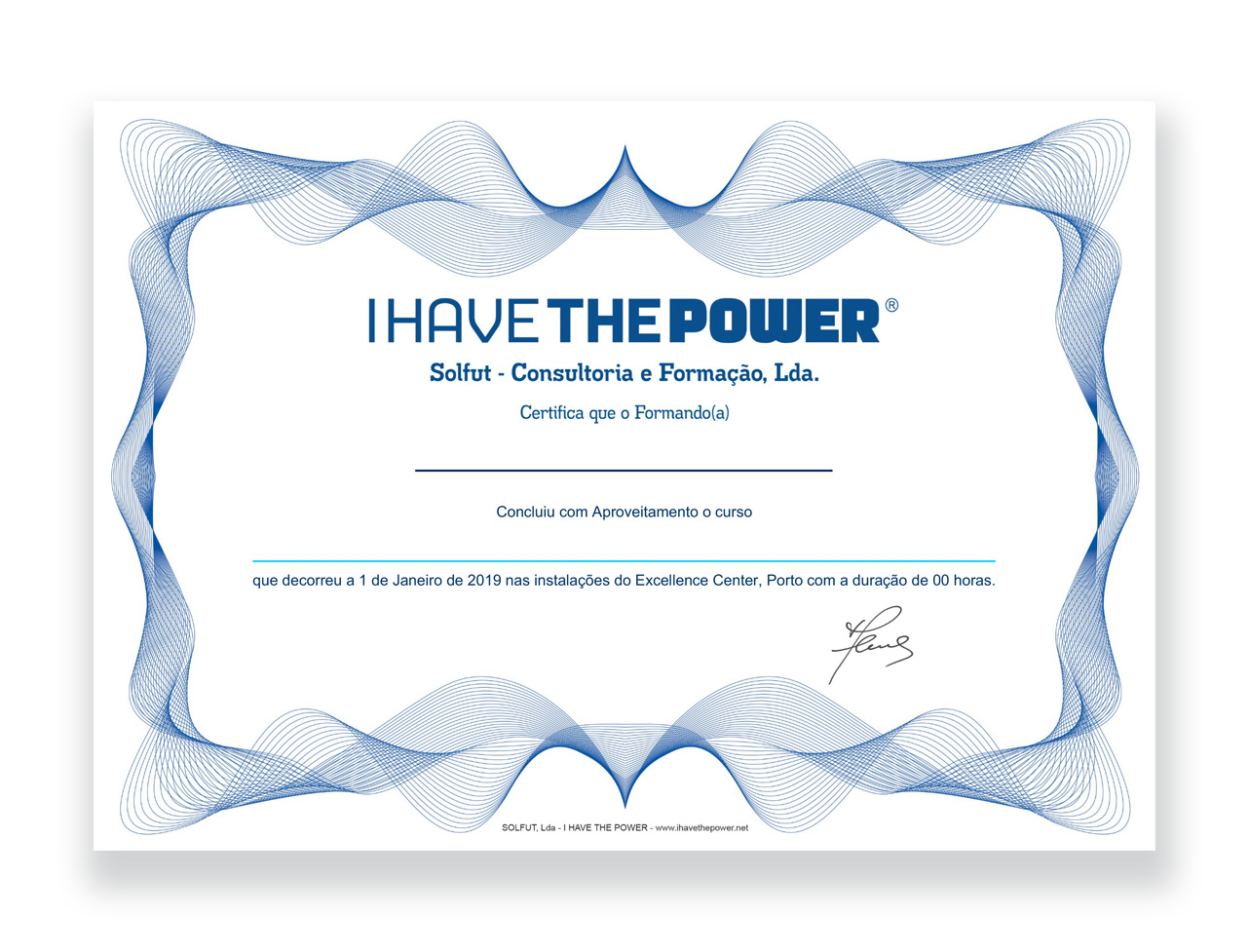 No final do curso será enviado também o Diploma IHTP. Este certificado tem o intuito de poder ser partilhado nas tuas redes sociais sem expor nenhum dado pessoal para além do nome, curso, duração e datas de realização.
Agora chegou a tua hora, a tua enorme oportunidade, disponível apenas para um número limitado de pessoas, de poderes aprender o que fazer para começares um novo rumo na tua vida e para te colocares ao nível dos melhores.
Mais recomendações para comprares agora: